Expert Advice
We're here to help you plan and book, no detail too small, no trip too large.
Important Travel Information
It's important to have all the right information about your destination before you go. We can help with visas, insurance, DFAT, medical, safety and other things you need to know.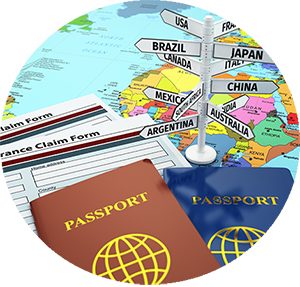 Many people ask "Is travel insurance is really necessary?" Yes! It's one of the most important things that you should do at the time of booking to protect yourself from unexpected cancellation, illness or accidents whilst travelling.
The single biggest reason for getting travel insurance is medical cover. If you've ever been overseas and required medical aid, you'll know just how valuable travel insurance is. Without it, you are personally liable for covering medical expenses – and the cost could be exorbitant depending on your situation.
There are four types of coverage generally included in travel insurance:
Trip cancellation and trip interruption insurance: This reimburses you non-refundable travel costs if your trip is cancelled or seriously delayed due to a natural disaster, illness, or the carrier goes out of business.
Baggage and personal items coverage: If someone steals something from your bag or your luggage is lost or delayed, travel insurance will pay you for your trouble, usually up to about $500 per lost baggage and $100-$300 per baggage delay. Missing and damaged bags happen more than you think.
Emergency medical insurance: Just as you wouldn't want to go without medical insurance in everyday life, when you're traveling overseas it's important to stay covered in case of accidents. This is the second most popular reason people get travel insurance. Coverage is usually around $10,000-$50,000 for emergency medical care.
Accidental death or dismemberment insurance: If you or a loved one dies on the trip or suffers a life-impairing accident (e.g., losing eyesight), this insurance feature pays out up to about $500,000, depending on the situation.
Read this recent article from the Brisbane Courier Mail. This is why you should never travel without travel insurance!

Be informed and be prepared, stay smart while you are travelling and know how to use the Australian Government's Smart Traveller website.
Do you need a Visa to travel to a country or are you not sure? Ask us or check with Visa Link before you go.